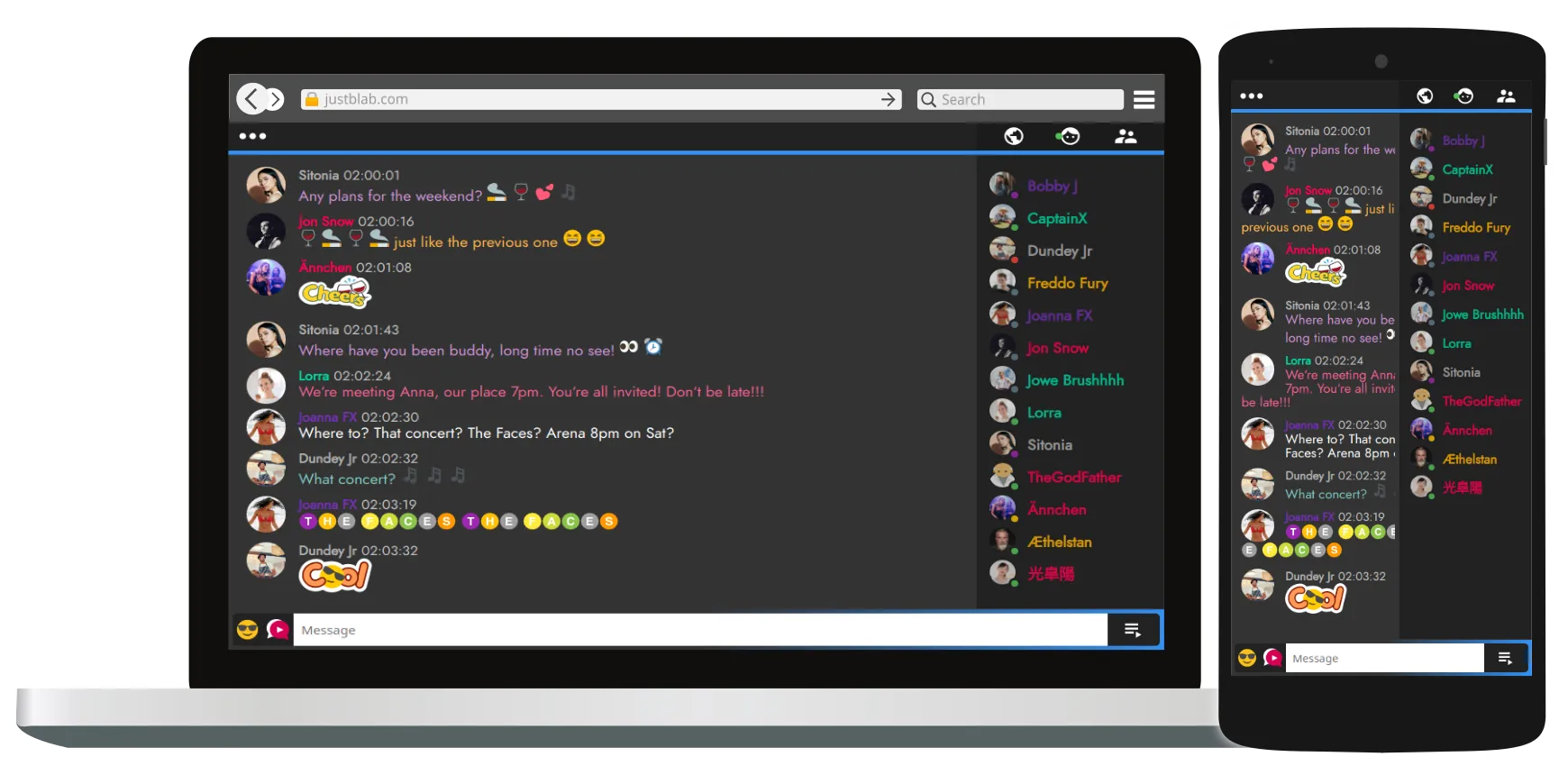 BlaB! WS Pro Live Preview

BlaB! WS Pro
A realtime group chat system (client & websocket server) with voice and video calls. The client app and Admin CP are with mobile friendly responsive design, HTML5 and CSS3 compliant, support any browser and HiDPI displays ready. The client side is written in PHP, HTML/CSS and JavaScript and using MySQL as a backend. The websocket server is a single Linux executable with no dependencies.
Features
Any Linux / Windows host or shared hosting service with PHP/MySQL and PHP mysqli extension enabled
If you are still running PHP5: PHP json extension enabled (bundled with PHP7+)
Optional: PHP fileinfo & GD extensions enabled in order to recognize file types and resize uploaded avatars
Optional: php_curl - required for VPN/ProxyGuard
Optional: php_curl or allow_url_fopen = On - required for Facebook Login
Optional: shell_exec and ffmpeg - required to create thumbnails for voice/video messages
help
Requirements (self-hosted PHP/MySQL client & self-hosted websocket server)
A Linux based server (VPS) with Apache/Nginx, PHP5/PHP7/PHP8 and MySQL/MariaDB in working state.
Access to that server via SSH as a root user or as a user with sudo privileges.
PHP shell_exec enabled in php.ini (required to start/stop server, alternative method is available).
Basic knowledge about Linux and some basic terminal skills: running commands, editing files.
Supported distros: Debian 8 Jessie+ / Ubuntu 16.04+ / RHEL 7+ / CentOS 7+ / Fedora
BlaB! WS Pro
3500 USD
Renewal 990 USD / month
+ VAT/SaleTax if applicable
✔ Discount on renewing for 5+ months
✔ Infinite support & software updates
✔ Free installation service on request
✔ All additions (sticker packs, quizzes etc)
✔ All TGF Extensions
BlaB! WS Pro
selfhosted client & selfhosted websocket server
9500 USD
one-time fee
+ VAT/SaleTax if applicable
✔ Multiple instances under 1 domain
✔ 12 months support & software updatesOptional renewal - 2500 USD / year
✔ Free installation service on request
✔ All additions (sticker packs, quizzes etc)
✔ All TGF Extensions
Tax based on your location such as VAT in EU, Norway, Switzerland & Taiwan, GST in Australia & New Zealand and Sales Tax in some US states will be added if applicable. FastSpring.com is responsible for calculating, collecting and sending VAT / GST / Sales Tax to your state/country. VAT registered company? Enter your VAT ID in the provided box to purchase without VAT.
On a successful purchase your order will be processed within 24 hours. Within 24 hours you will receive an email with information how to create an account at our support center. Once your account is set, you can login and download your copy of the software. Still waiting for your registration message?
CONTACT US
Please make sure that you meet the requirements specified above. We can provide a refund in case that our product cannot be installed on your server. This means that both you and our staff are unable to install the product.
Page updated: 2022-04-14