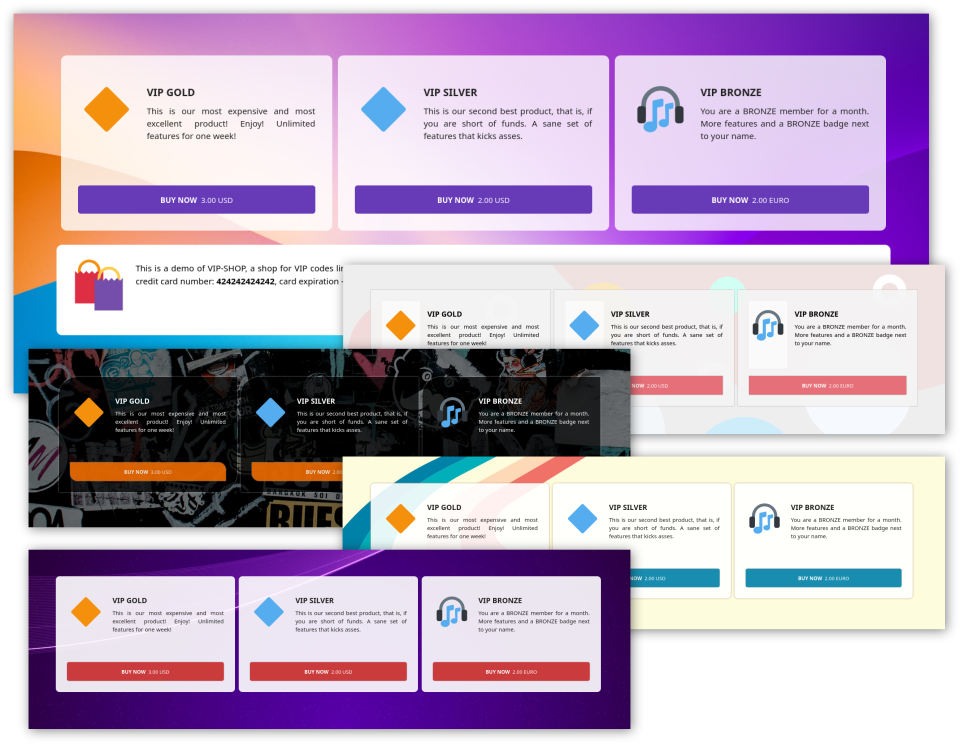 VIP-SHOP
VIP-SHOP is a BlaB! WS Pro / BlaB! AX Pro add-on that allows you to sell VIP codes in real time using Stripe as a processor of credit cards, GooglePay and ApplePay. VIP-SHOP settings are fully integrated in the Admin CP of the chat. VIP-SHOP is NOT included in BlaB! WS Pro / BlaB! AX Pro and must be purchased separately.
VIP-SHOP is NOT a required part of BlaB! WS Pro / BlaB! AX Pro - you can sell VIP codes by installing and using any online store software that is familiar to you or popular in your region. Alternatively, you can generate VIP codes en masse and sell them via online services such as MyCommerce, e-Junkie, Simple Goods.
You can test VIP-SHOP and place a test order in our demo chats. Send a private message vipshop to TheGodFather and get a link to VIP-SHOP. The AdminCP of our demo chats are open in read-only mode; go to AdminCP » VIP » VIP-SHOP. More information about the internals of VIP-SHOP and step-by-step instructions how to setup VIP-SHOP can be found in the documentation.
Requirements: BlaB! AX/WS Pro v21.09 and above, PHP5+ with php_curl extension, Fully functional Stripe account.
VIP-SHOP
25 USD
one-time fee
+ VAT/SaleTax if applicable
Tax based on your location such as VAT in EU, Norway, Switzerland & Taiwan, GST in Australia & New Zealand and Sales Tax in some US states will be added if applicable. FastSpring.com is responsible for calculating, collecting and sending VAT / GST / Sales Tax to your state/country. VAT registered company? Enter your VAT ID in the provided box to purchase without VAT.
BlaB! AX/WS Pro account is required! On a successful purchase your order will be processed within 24 hours - within 24 hours your account at our support center will be added to a group with permissions to download VIP-SHOP. You will have access to the latest VIP-SHOP as long as you have an active BlaB! AX Pro or BlaB! WS Pro account at our support center.
Page updated: 2022-12-14